Introduction
By John Fertig, June 2007 Ralphe Armstrong was born into a family of musicians, and with the help of classical training as a child, he was a professional musician before he had finished his teens. His talent caught the eye of Gibson; he was chosen to endorse their basses from the mid 1970s, and as an advisor, he had input on new products such as the Ripper, G-3, RD Artist and Victory.
His early career placed him with a wide range of musicians, most notably jazz fusion acts Mahavishnu Orchestra and Jean-Luc Ponty. Later, he took time out to raise his children, but soon returned, playing jazz, funk, and even hip-hop, with the likes of Eddie Harris, James Carter, Curtis Mayfield and D-12.
Ralphe talks about his playing, musical career, Gibson endorsement, and of course, his Gibson bass guitars.

Ralphe Armstrong as a child, with his father Howard, "Louie Bluie", in the early 1960s.

GibsonBass You come from a musical family: your late father was a famous musician, artist, & storyteller, and your brother also plays bass?

Ralphe Armstrong My fatherís name was Howard Armstrong and his stage name was ďLouie BluieĒ. He was a violinist and passed, I guess, in 2001; he lived to be ninety-five years old and he played all over the world. The man played everywhere! My aunt played guitar. My brother Tommy played trumpet and was a good friend of Miles Davis in Chicago. He also played bass with my Dad.

GibsonBass He played upright bass?

Ralphe Armstrong Yes, a bass violin.

GibsonBass I understand they did some documentaries about your father, including a PBS TV series...

Ralphe Armstrong Yes, PBS. And he was given a National Heritage award, given to him by Charles Carault. He was a Tennessee violinist and an artist. Thatís my dad.† He was also a famous storyteller as well.

GibsonBass What was the musical background that lead you to become a bass player?

Ralphe Armstrong My uncle Lee Crocket (LC) Armstrong was a bass player. I wanted to be like him. My father tried me on the violin when I was five, but I never liked it. Every time I picked it up it squeaked. My uncle had a big house and drove a Cadillac and I wanted to be like him. I ended up learning the bass. As a matter of fact, he made me a bass when I was 7 years old. He put a German violin neck, bass violin neck, and put it on a square body.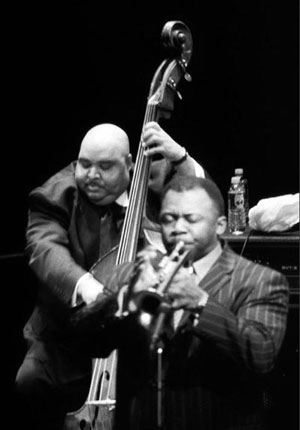 Ralphe Armstrong & Dwight Adams - live with James Carter (The Egg, Albany, New York, 2006). Photo Albert Brooks, courtesy albanyjazz.com

GibsonBass I understand you were classically trained?

Ralphe Armstrong Yes, I went to Michigan's Interlochen School of Fine Arts. I played The Pious of Rome by Rossini, The Fantasy by Domenico Dragonetti. I played in the World Youth Symphony Orchestra, I played all over. I also played with the London Symphony Orchestra with John McLaughlin, and I had lessons from Ron Carter and Buster Williams. They taught me so much about the bass, without those two guys I donít know what I would do. Ron, I consider one of the greatest in the world. Heís my teacher; so is Buster.

GibsonBass At 17 you joined Mahavishnu Orchestra, but you played with the progressive rock act The New McGuire Sisters first. How did it all come about?

Ralphe Armstrong What happened, I went to up to Miles Davisís bass player, Michael Henderson, who told these guys about me. That was Narada Michael Walden and a guy named Sandy Torano. I went up to Connecticut and ended up playing with the group. Itís funny, but this has never been told before, but when I was first with Sandy and Narada, there was this music store in the town, (Canaan Connecticut, which is a very expensive place to live in now) Al had this bass, he would let me use his equipment and I ended up using this bass. I wish I could find one today. It was a Gibson Studio Les Paul Bass [Les Paul Triumph bass]. It had in and out phase switches and was a light colored mahogany finish. That was a good sounding bass. I loved the sound of that. That was the first Gibson bass I ever played at a gig with a group. But the first Gibson bass I was introduced to was by a guy named Jerome Rimson- as a matter of fact he was Van Morrisonís bass player at the time, in Detroit. It was made like an ES 335. I think Steve Swallow played one.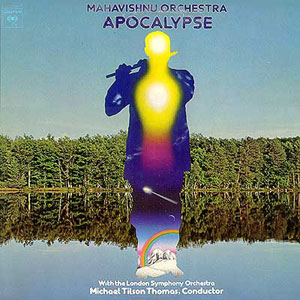 Mahavishnu Orchestra: Apocalypse. This album featured the Mahavishnu Orchestra and the London Symphony Orchestra, and was produced by Beatles producer George Martin.

GibsonBass Thatís the EB-2

Ralphe Armstrong EB-2ís had a warm sound. A lot of cats in Detroit were string bass players and wanted to emulate that sound.

GibsonBass Then you and Narada Michael Walden joined Mahavishnu Orchestra, and you used Fender basses? (Later, in a 1976 issue of Guitar Player, you mention a Jazz body with a fretless Precision neck?)

Ralphe Armstrong I found a Fender Precision, you just canít find that bass. I havenít seen any. That was the one I was using. That was the one Jaco saw.† The only reason I got a fretless bass was because of Jamerson and Motown. He kept telling me about how he had the prototype. I ended up playing the fretless bass and thatís how I got the gig with McLaughlin, because he saw me play the fretless Fender.

One reason I went over to Gibson basses was I had so much trouble out of the Fender bridges. They were terrible. They made a lot of bad guitars. I donít want to put all Fenders down. I got a plain Precision. Itís one of the best basses Iíve ever played. The bridges would always drop on me, they would fall! I got tired of that!

Sometime they had the bridges out of sync with the neck, a lot of bad quality. That was one of the reasons I went over to Gibson.

GibsonBass Was the spiritual aspect of McLaughlin's music and outlook was an important factor when recording those albums?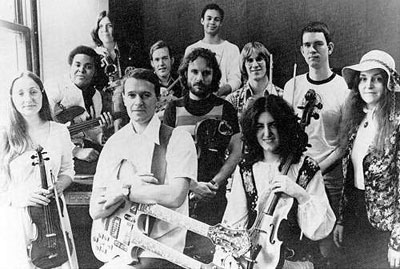 The Mahavishnu Orchestra circa 1974, Ralphe is second from left. This image appeared in the programme for the Mahavishnu Orchestras performance at Knebworth 1974. Courtesey www.rockmusicmemorabilia.com

Ralphe Armstrong Definitely, we would meditate and Iím getting back to that, a spiritual way of playing. We are living in a very stressful world today.

GibsonBass Is it true that you and Jaco auditioned for a gig with the Mahavishnu Orchestra in 1973, with you getting the gig?

Ralphe Armstrong He did audition and I got the job because I had the fretless bass!

Thatís how Jaco saw the fretless bass. Me and James Jameson were the first cats that had fretless basses. You could not find them so Jaco went and ripped the frets out of his bass. He was my friend, he was a beautiful person. He was really nice to me.

GibsonBass What was it like being a young kid thrown into Mahavishnu Orchestra? At 17 was it a bit intimidating?

Ralphe Armstrong Not at all, I was classically trained.