Short scale strings suitable for the EB3 bass
| | |
| --- | --- |
| Model | Gibson EB3 |
| Year | 1961 |
| Serial Number | 288** |
| Scale | short, 30 1/2" |
| Body | Solid mahogany body. Approx dimensions 17" long, 13" wide, 1.37" thick. Total body length 41". |
| Neck | One-piece mahogany, set neck. Rosewood fingerboard. 18° (17°?) headstock angle |
| Frets | 20 |
| Width at nut | 43mm |
| Weight | 3.7kg |
Dating a vintage Gibson bass guitar can be tricky in some cases, but for this early EB3 it is actually a simple matter. The potentiometers and serial number both date to 1961, and it has all the period correct hardware for 1961...
An early EB3
Gibson produced almost 15 thousand EB3 basses over the 18 years of production (1961-1979); two thirds of which were shipped between 1969-73. It took a while to gain popularity, with just a tiny fraction (just 132 EB3s) shipped in the first year. (See the full Gibson EB3 shipping statistics).
1961 EB3 features and components
This bass has all the typical early 1961 features and is typical of the EB3 shown in the 1962 and 1963 Gibson catalogues. Starting at the top: inlaid Gibson logo, with open o and b and dotted i. The inlaid crown inlay on the headstock is raised above centre, (rather than being centered a little later), and the headstock angle seems to be 18°; although it is hard to measure this angle with precision. Gibson guitars at this time had a nominal 17° angle, and it may be that 18° is within normal variance.
The bridge is the nickel two point bar bridge, which would have been fitted with an under-bridge string mute, though this part is now missing on this bass. The screws in front of the bridge are still present. Another part often missing is fitted to this bass; the nickel hand rest. Later EB basses had the same rest, but chrome-plated. The neck humbucker has a black bakelite cover; this was originally metal-plated, as was the surround of the bridge pickup, but this was very poor-wearing, and finding these with any real amount of plating on them is rare. Finally, the tuning keys are Kluson 538 type, as fitted to Gibson basses throughout the 1960s.
Wiring
The picture on the right shows the wiring loom. Three pots are identical; Centralab 500K audio taper, part number BA811-1053, all dated week 39 of 1961 (September/October). The neck pickup tone pot is different; 250k part BA811-1831 and is dated week 18 of 1961 (May). Click the image for a larger version, and a circuit wiring plan.
John Birch modification
At some point in the 1960s/70s this bass was modified to a left hander, by luthier John Birch. Birch was famous for his work on the instruments of Slade, Deep Purple etc, and a decal with his name was applied to the back of the headstock. The John Birch changes have all been reversed now, but included a left-handed nut, different tuning keys and an intonatable bridge.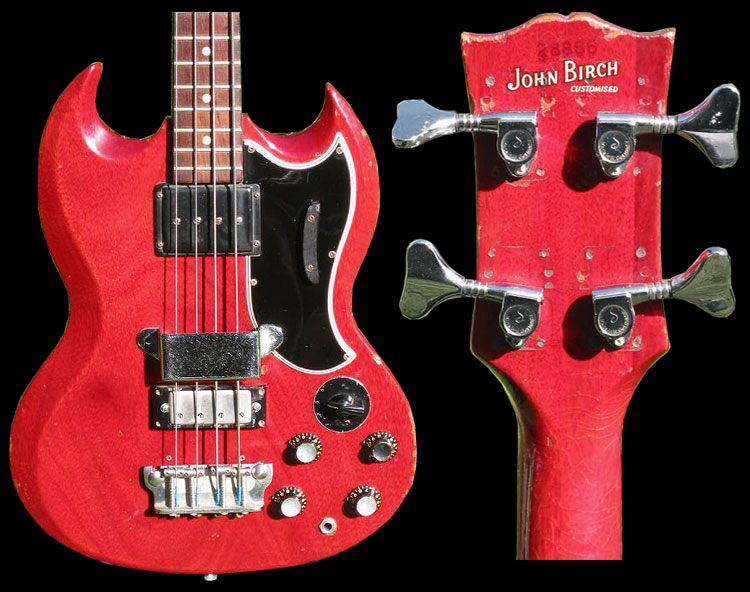 Listen to this bass
Circuit image
More about the EB3 in general