Short scale strings suitable for the Epiphone Newport bass
Playing her out with the Silver Brazilians

The Epiphone Newport Deluxe bass guitar, or EBD, was manufactured between 1961 an 1963, and only in very small numbers; 89 in total (see Epiphone Newport shipping figures). Notice that this is very much the old-style Newport; the body and headstock are symmetrical. The Deluxe was only produced until 1963; presumably no batwing headstock or asymmetric body-shape Newport Deluxes were made, as these features came in in 1964.

It is fitted with typical early-sixties Gibson hardware; nickel plated throughout. Early sixties humbucker (wide cover), and mini-humbucker (the surrounds were painted silver on both the Gibson EB3 and Epiphone EBD), bar bridge and Kluson 538 tuning keys.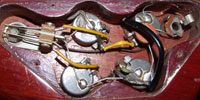 This is effectively a Gibson EB-3, albeit a simplified one without the varitone. The controls are the same as an SG or 335; two volume and two tone, with a three-way pickup selector switch.
Sound Clips
Recorded directly from the bass into the computer via a M Audio mobile pre USB sound card. The bass was strung with Labella Deep-Talking flatwounds.

The Newport Deluxe was never shown in an Epiphone catalogue, although it was mentioned, alongside the regular one-pickup version, in both the 1961 and 1962 Epiphone catalogues. Only 89 Deluxes were made, making this one of the rarer Epiphone models. In the same period Gibson made seven times as many EB3s, and almost five times as many one-pickup Newports.