Onstage with Iggy and the Stooges (Sept 2003) - Photo courtesy of Peter Whitfield

The Weirdness
Mike Watts first Studio album with Iggy and the Stooges was released in March 2007

Iggy and the Stooges
GibsonBass So how did your role with The Stooges come about?
Mike Watt That was pretty incredible too. A lot of stuff, third, forth, fifth hand. With the Stooges I can go to a blue print. I can't imagine Punk without the Stooges. Finally I'm the youngest guy in the band, (laughs), but I'm the student here.
GibsonBass Do you try to stay with the original bass parts of the songs or do they give you a lot of freedom?
Mike Watt We just made an album. Iggy had me come to his place in Miami and went over every note of the songs. They are all not rapped up in operating a machine, so they have a big picture kind of thing. It very interesting, their perspective. I let go of all the control bogart shit and let him teach me. I get my way in a lot of my projects, so it's no blow to the ego.
GibsonBass Did they let you use your EB-3 for the recordings?
Mike Watt Yeah, I used it in the studio, I recorded in Chicago, I think it's a pre-63? It still has the small headstock and that kind of top hat, not the witch hat knobs and uh, it fits right in-between. I've made some changes to it. [see part 3 Gibson EB3s for more about this bass]
What happened was as I got less young, after gigs my hands would be so sore playing long scale. It was getting harder & harder to drive the van. When I went to 30- 1/2 inch scale, all the hurt went away. It was like I went full circle to the beginning. I bought this thing (EB-3) like 10, 12 years ago, for only couple hundred bucks only for sentimental value, but it ended up working out really good.
GibsonBass What's coming in the near future?
Mike Watt well, touring with The Stooges. There's a US tour in April, we have a lot of overseas gigs spring and summer. When I get time, I go to my Missingmen, my third opera.
Secondmen and Missingmen
GibsonBass I saw your band The Secondmen in Chicago a couple of years ago and was struck by your playing live. Very unorthodox choice of notes and the beats you played on. I bet your band has to really be on its toes to keep up with you. You're not the typical bass player.
Mike Watt I have been very lucky to have great cats to play with. Some musicians are caught up in the hierarchy. The weird politics of our instrument is we look good making other cats look good. It's very narrow, that's what weirds me out about five & six string basses. You get in areas where other cats are. I think that is why those four strings were selected. Anyone can do what they want, but I am tied up exploring those four strings.
GibsonBass I understand you toured with your band the Missingmen opening for the Red Hot Chili Peppers?
Mike Watt Yeah I've toured with them a couple of times. That was my 60th tour. I flew to Stooges gigs at the same time. A lot of my style is because who I play with. There is an art in inspiring people.
Kelly Clarkson
...and with his 1966 Non-reverse Thunderbird II

GibsonBass You recorded a session in 2006 with American Idol winner Kelly Clarkson. What bass did you use.

Mike Watt Non-reverse Thunderbird II [see part 4 Gibson Thunderbird for more about this bass]. They told me five or all six of the songs are going to be on the album. She actually was very nice - god can she sing! She said she learned to sing in church, never really in bands. Very nerdy stuff doing sessions. Everyone looking at you under a magnifying glass, what are you going to do? It's really a pants shitter! (Laughs). She called me Billy Badass or something (Laughs again). She goes up to the producer (David Kahne) and says, "Yeah I think the old punk guy was a good idea," we were all laughing. She was very nice and they were all very supportive. I did not know what to expect. You put yourself in a hard situation and hopefully you learn something.

GibsonBass Did they ask you to play to a click track?

Mike Watt On one tune I kinda did, like with no music! That was very scary, very hard. But hell, fuck it, I went for it!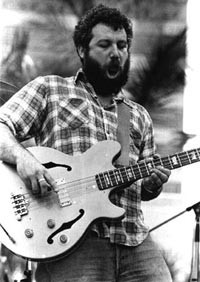 Mike Watt with his Les Paul Signature bass in 1991, playing with his band fIREHOSE. Image courtesy of hootpage.com

GibsonBass I think things are changing where people are looking for that vintage tone.

Mike Watt You know that's what the producer (David Kahne) said. I like the way your fingers are on the strings. The tone. I'm so close to it I really don't know how I fit in sometimes, you know? I don't have objectivity. So when people says stuff, I feel very grateful to them. I wonder sometimes what's coming out you know, but if people like what they are hearing you know, the magic of your fingers on the strings.

Actually you know what he did? Cause there was some bass I played, some of it was me and some was another bass and mine was a lot fatter on the track, it blew me away. By just playing, not effects or equipment, just playing.

GibsonBass Did they record you direct or through an amp?

Mike Watt I went through an amp and direct. They had me going through a Portaflex, B15, but used hardly any of that - it was mainly the direct. Going into an Avalon 2 DI, you know, that's what he used.

But like the fIREHOSE records, with the Telecaster bass, I went right into the deck. I heard Jamerson went right into the deck. People talk to me about amps and stuff. We just left it up to Ethan, Ethan James, the guy we used to have produce it. That's what he likes. We didn't know about the studio thing, all we knew were gigs. It was his call.

Part 3: The Gibson EB3 | Got something to add? comment | other GibsonBass interviews
---