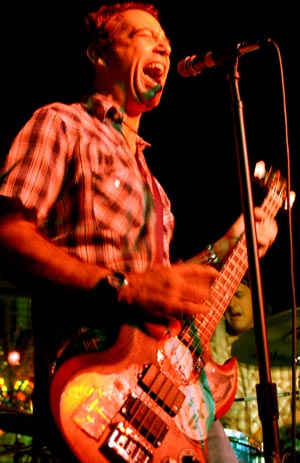 Mike Watt with a heavily customised Gibson EB3 (2004) - Photo courtesy of Peter Whitfield
Mike Watt Introduction
By John Fertig, March 2007 Mike Watt is a punk rock legend, carving new musical ground with his band Minutemen that was cut tragically short in a car accident with the death of the guitarist and childhood friend D. Boon. Watt went on to form the band fIREHOSE that built it's own following. Post fIREHOSE, Watt has played and/or recorded with a long list of musicians including: Porno for Pyros, J Mascis and the Fog, Banyan, Rickie Lee Jones, Dave Grohl, Frank Black, Eddy Vedder and Thurston Moore. More recently he has put out solo records aswell as playing and recording with Iggy Pop & The Stooges, Kelly Clarkson, and his own bands Secondmen, Missingmen, and his longest running band (formed in 1986); a two-bass-only band Dos.
Mike talks to GibsonBass.com about his music, his Gibson bass guitars, and their many modifications...
GibsonBass Tell me about your approach to bass playing and music in general?
Mike Watt a lot of it comes from playing with D. Boon. When we were boys (I'm 49), we were use to arena rock in the 70's, and we were too far away to see the tuners. You could see in pictures they had four tuners. We knew they had four strings, but we did not know they were bigger, so I played a guitar with four strings, 'til I saw a real bass when I was 16. I started when I was 13. I really could not hear the bass on records except for Jack Bruce, John Entwistle, Jamerson, R&B and Larry Graham - could hear the bass on that, just the way songs were written for the bass. You could hear Entwistle on the bass (laughs) and that Wheels Of Fire, that Cream, where they played Crossroads. In fact I saw pictures of Jack Bruce, I saw him playing with a Gibson EB-3. So at 16 I got a real bass. I did not know a Gibson/Fender. A lot of stuff was sold in record stores and it was hard to find Gibson & Fenders, there were no Guitar Centers back then. You had to go to Hollywood.
Punk came and that was a real mind blow for us. The club scene came back. You could stand right up there and see the bass and feel the bass. In those days the PA was used for singers, so they would have 8 SVTs with drummers, with no monitors. Punk comes and we find we should be writing songs.
Mike Watt in 1979 with his split headstock Gibson EB3 - playing with The Reactionaries (photo by Sedillo). Image courtesy of hootpage.com

Minutemen
GibsonBass Your first recorded band, Minutemen created their own type of music...
Mike Watt Hearing Punk Records from England like Wire, where they would have no song structure, making what they want. Music is what ever you want it to be. It was trippy too because there was a lot of women in those bands. Which the only female bass player I ever saw back then was Suzie Quatro.
With punk in the early 70's, everyone was on a level playing field, everyone was lame. The guitar was just textures with the bass driving it along. The bass was very prominent in those bands. With Minutemen we were putting our thoughts on how the band was going to be structured. He (D. Boon) would not play barre cords and played trebly. He would give me a lot of room, a three-way tie, kind of.
Building a whole from the parts, like a conversation, not just a support. Boon said we are going to have a conversation. Kinda like osmosis. We would not have to worry about trying to show each other up. Like John Coltrane, he kept practicing, so what I try to do is put myself in challenging situations.