Jack Casady introduction
By Graham Fieldhouse, June 2010 Jack Casady is a bass legend. He was a key member of Jefferson Airplane and today still plays with the offshoot band Hot Tuna that he formed with Airplane guitarist Jorma Kaukonen. Having experimented with various basses over the years from Fender to his Epiphone signature model, it was a pleasure to talk to him and hear about the equipment he's used and helped to develop.
FlyGuitars You were exposed to a lot of music when you were a youngster but you didn't start on the bass immediately?
Jack Casady Well I started out playing guitar, you know that's what was going on, and in 1956 there weren't a lot of electric basses around. I heard stand up bass of course but I started out playing the guitar. I think the first guitar I had was a Washburn acoustic guitar that had belonged to my father; a nylon strung guitar built in the 30's. Then the first instrument I bought myself was a Gibson 125 student model, a single pickup F-hole, a nice arch top. I had that until about 13 and from a lawn cutting business and a newspaper route I saved my money up to buy my first electric guitar which was a 1958 Telecaster. I wish I had that today 'cause it was a great guitar.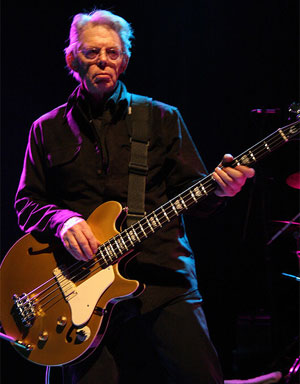 Jack playing a Gold Epiphone Jack Casady Signature bass, May 2008. Photo Sam Holloway

FlyGuitars Where would you say your style of playing came from?

Jack Casady Well, I think it was influenced by a lot of genres; because I love classical music, I love jazz, love folk music, love blues. In Jazz I like the music that came out in the late 20's early 30's. I like Jelly Roll Morton, I liked a lot of piano players because of what they would do with their left and right hand the way they'd mix that together; and I think probably I had a sizeable influence from piano players that would use their left hand in an intriguing way. That's where I get a lot of note transformations like moving up in to the register that wasn't traditionally for the bass player. At the same time I try never to loose the pulse, you know I try to always keep the groove going. Sometimes more successfully than others. There were many great jazz players that were influential. I think primarily of the tone as well, Charlie Mingus was a big influence; I saw him quite a few times. Just to sit in front of him and hear his tone in a small club is unbelievable. Dolphy was a big influence and like I say I loved Jelly Roll Morton, Champion Jack Dupree, fantastic. Amos Milburn, Scott LaFaro playing the bass, a lot of these early guys. The thing is I wasn't going in to the field of jazz, so I think the biggest breakthrough for me was leaving a situation in Washington DC at aged 21, primarily doing cover songs to join a band where everybody, for good or bad, wrote their most of their own material or adapted a song in a unique way. I think some point in your career you have to do that breakaway; otherwise you never get your hearing away from getting used to duplicating what you've already heard on a record.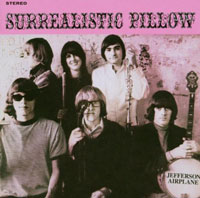 Jefferson Airplane's 1967 album Surrealistic Pillow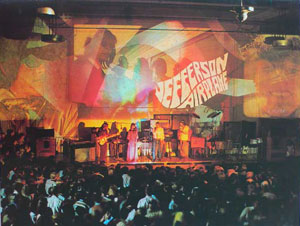 Cover of the 1967 Jefferson Airplane tour booklet

FlyGuitars You went out gigging with bands at quite a young age didn't you?

Jack Casady Yes, I think around 13 I started getting paid for this. Jorma Kaukonen and I had a band together called The Triumphs; I played that Fender Telecaster guitar and he played an acoustic J50, the same guitar he recorded Embryonic Journey on Surrealistic Pillow with Jefferson Airplane. I was in junior high school and I was 14 and he was 17. After, he moved on to start college I entered in to a number of bands in the DC area, playing guitar in the club circuit.
Dream factor - Jacks 2003 solo album

FlyGuitars As well as your work with bands, you also did a solo album in 2003, Dream Factor - were you pleased with how that turned out?

Jack Casady Absolutely. My object with that album was to not do ten tracks of instrumentals; my object was to work on songwriting. Mostly writing the songs on a guitar, work with chords, and improve my sense of understanding of songwriting itself. Now that being said, I think the next album I'm going to do is going to be an instrumental album with a number of different approaches on it.

FlyGuitars When do you plan to work on that?

Jack Casady When I have time, but we are planning on doing a new Hot Tuna album. We will start that most likely towards the end of October and November (2010) [Out in Spring 2011 on Red House Records. I think Larry Campbell is going to produce it. Larry worked on Jorma's last solo album and we had a discussion with him. I believe GE Smith is going to join us and Skoota Warner who's been playing with us this last year is going to be doing the drums, so we're looking forward to that. I hope within the following year to put together an album for myself.

FlyGuitars And you also teach at the Fur Peace Ranch?

Jack Casady I've been teaching out there for about 12 years since it opened. One of the things that I just love to do. It's a great vehicle for any player to not only reassess his playing, but shore up a lot of their weak points. My students go anywhere from 14 years to 80 years and there's nothing like when a student asks you how or why you do something, you know. Think about that. In any case, the opportunity to teach and share and instruct is just a wonderful thing. I use a format, pretty much like you'd be in a studio format up there. A Pro Tools set up and I set up like a mini studio and I have tracks that I record with Jorma as Hot Tuna songs and I have tracks used for backing, playing tracks with various people I worked with. I use those as a pallet for the bass player to play the parts of the songs. So they see their playing in context with other musicians or with other notes in the track. Cause playing bass is all about being with other people.

Jorma is a finger style guitarist, he can play a whole composition alone and it holds up perfectly well. Us bassists require other musicians, that's the area that we work within, the coalescing with other instruments.

Working in the interaction and working in the subtle movements within subterranean parts of the song. So I teach a lot about how the note placement works within a song and I don't just replicate what I do. We teach in a workshop format so I'll take up maybe nine students at a time and I try to individually see what their strong and weak points are, and then see how they're approaching the song, how the ear goes. Some sessions, we do a lot of ear training, some sessions are devoted a lot more to technique and hand placement of the left hand or the finger technique, the right. I work a lot with tone trying to get the student to walk away with better tone and more confidence about where he is in the song. I find a lot of people don't know about the song format as much; they don't really understand how the song is put together. They get lost a lot or they'll work on bass lines, or they'll work on bass figures but they don't really understand harmonically how they fit within the song. I try to get them to walk away with this concept; find their weakest point and have them get an understanding of a direction to work on after they leave there. 'Cause it's not about them memorising the stuff I've played on records. They'll go talk to their own reality and work with their own genre, you know if they're young they'll be working with their own contemporaries. If they're older they work in different material. What I want them to do is be able to take some of the tools that I've given them and improve the environment that they work in.

FlyGuitars So do you have a favourite recording of yours that you think, yeah I really nailed it on that, or is it too hard to pin it down to one?

Jack Casady Well you know most of the recordings as I listen back to them I have mixed feelings, but you know I hear back and I hear jump off points. I mean the very first record I recorded which was Takes Off with The Jefferson Airplane was a full recording I enjoy now today because I'm hearing myself just really have a pretty good sense of the instrument, but I'm not trying that hard so to speak. There are different recordings throughout each Jefferson Airplane record that I can hear myself moving in to different areas and it's hard to say that I have a favourite one. I think what still holds the test of time would be the first Hot Tuna album (Hot Tuna). Burgers was a good album that we did, and Surrealistic Pillow was good, but I really enjoyed a lot of spots in different places in some of the other albums. It's pretty difficult to say which one is the most favourite.