Jack Casady playing his second Guild Starfire at Michigan State University in May 1970. Photo Jim Mead

Guild Starfire bass
FlyGuitars When did you start using the Guild Starfire?
Jack Casady I think '67 I found one. I'd heard from someone about the Guild Starfire and I can't frankly remember exactly how I arrived at it. I was probably here in Los Angeles cause we did all of our recording in Los Angeles. We'd spend a month at a time down here and then you'd wander around. We used Studio A at the RCA building on Sunset and Ivy for the first album (Takes Off) we did in January / February 1966 and then later on in that year we did the second album Surrealistic Pillow and I think the third album Bathing At Baxters. We rented a place down here and we stayed for almost two and a half months off and on and then I did a lot of roaming around Los Angeles. One of the people in the studio I think, (told me about) that Guild bass and I bought that. I started playing around with it and brought it to the session, but I don't think I recorded with it. That third album was still a somewhat modified Fender Jazz bass. I really liked the nature of the f-hole tone but of course it was a short scale neck, it was deficient that way.
Fly Guitars So you changed the electronics?
Jack Casady I really wanted to get not only more power out of it but I wanted to get more quality of tone because with the 31 and a half inch scale I wasn't getting the low end like I would have liked to get. I mean the speaking length was part of the problem but also I wanted to take that tone and expand it. A friend of mine, Owsley Stanley, (famous for other things) was into electronics and he also knew a guy named Ron Wickersham who later on became involved with Alembic. And we started talking about that Guild bass. So that was when he suggested that we put a preamp and run it with a 9 volt battery and also use components that were of a higher quality, including the pots. I took the pickups, that was my idea, and flipped them out and added another alnico magnet on the other side so each pickup had twice as much power. The other issue that expanded the quality of the tone that they suggested was to take it and bump it back down to low impedance. By low impedance I was able to expand the dynamic range and that's what Les Paul had used and still did use his whole career, he played a low impedance guitar. Though he didn't get the volume of the squashed up high impedance pickups, that became fashionable later on.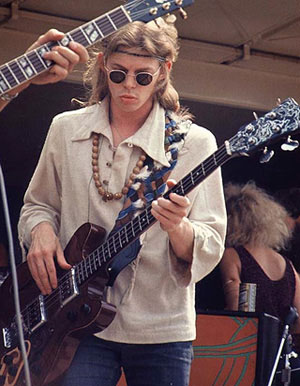 Jack Casady playing his first Guild Starfire

The idea with the Guild was to experiment a lot with the preamps and also tone variants. It was nice and fancy, the one Owsely worked on. He made a nice carving, and a modular inset for the electronics.

FlyGuitars That was the bass you're seen using at Woodstock and on various TV show clips on You Tube?

I think on You Tube there's a picture of the first bass with Jorma and I doing an NPR program. On that one you'll see the nice carved piece, beautiful the way I've stained it dark brown and it had all this inlay at the top.

FlyGuitars So what about the next Guild Starfire bass, the sunburst one?

Later on when the (first one) got stolen I had another Guild. I (had) bought two Guilds at Chicago Music in '68 I guess it was. They were 1967 and matching. I've got one upstairs that's never been touched, but the other I sent out to Ron Wickersham. I said I've got to get this thing back out on the road. He says I've got some new ideas. I said great, I don't care about what it looks like just saw the front of the thing put in the plate, and he says well it'll be crude, it'll be a hunk of aluminium. I said great, just saw it out and bolt it in. The way we were thinking at the time, we were thinking well if you go in to a recording studio you see a channel strip with all the tone variants, notch filters and all that kind of stuff, can we put that in the bass itself and that's basically what was done. We approached it that way as if you'd have a nice long panel in front of you with all your controls and tone variants, band pas filters, notch filters all that kind of stuff and boosts which basically turned up enough would be a distortion boost but a bass boost where you could control the low end so pretty much just like you had a channel strip you know. So that's what he did he used the highest end components in there and that was the approach to the instrument. It was more an experiment with the electronics than it was the instrument itself. It looks like I literally just put a piece of aluminium with a bunch of knobs on the front. That's the one I loaned to the Rock 'n' Roll Hall Of Fame, it's hanging there.
Youtube Video Clips




Jack Casady with his two Guild Starfire bass guitars - click the images to view clips. In these live recordings, the snarly mids of the Guild Starfire are completely apparent.

Four clips of Jack with his Guild Starfire basses. Top row, the first Guild Starfire. Left: live at the 1969 Woodstock festival with Jefferson Airplane; Right: Hot Tuna live on the NPR TV show, 1970. Bottom row, the second Guild Starfire. Left: Jefferson Airplane at the Altamont, December 1969; Right: Jefferson Airplane at "A Night at the Family Dog", February, 1970.
FlyGuitars Did you ever try other semi acoustic basses; the Gibson EB-2 or the Epiphone Rivoli?
Jack Casady Yeah I did, only to my ears they were a little more muddy. I thought the Guild was a little thinner sound so when I modified it, it was a big full sound. If you listen to the sound on that first Hot Tuna album (Hot Tuna) you'll hear pretty much the pure sound of the first version of the modifications we used. That was the idea, to get a nice big full sound and have it articulate but not have it be too muddy.
The Guild V bass
FlyGuitars So the Guild V bass, can we talk about that?
Jack Casady A gentleman named Glenn Quan did what's known as the Badass bridge. Here's another guy that basically started out working on guitars and just refitting them and stuff like that. People were trying different things, they were trying brass nuts at the top and they were trying brass pieces for saddles and what not. He got the idea of taking a nice big huge plate like a plate on a Fender Telecaster you know, that big plate down at the bottom, the way it's anchored. The Badass bridge which was a big heavy brass plate, he would notch out in to a flat top guitar or bass and then the idea was get a little more sustain. Right everybody wants sustain?
He was playing around with V guitars and he had down there a Guild bass solid body [a Guild Jetstar] and he took that neck off and he made what he thought would be the appropriate size for a V Bass. Then he got his paint and colours together to make it what would be in a typical Guild dark maroonish red. He put two Guild pickups on it and a Badass bridge and I played that for a while. Again it was a short scale neck.
FlyGuitars And how did that sound?
Jack Casady Nothing like the Guild, you know it was a solid body instrument a whole different sound. There was no custom electronics or anything, stock electronics. The only thing I did as I did in the other basses, I would increase the alnico magnets in the pickups.
FlyGuitars And that bass was being used around the mid to late 70's? That was when Hot Tuna were more rockier sounding?
Jack Casady Yes. It's a high impedance bass and it's more of a narrower sound, it's a little buzzy. It's not my favourite sound, I tend to go for a little broader sound but it had it's place and it was a lot of fun to play for a time. I think as you go through different pieces and a band develops that you're always ready to try a little something different. At that later period of Tuna where going a little more, from my point of view, to a more solid bass sound and a little less notes.