Other vintage basses
GibsonBass You've got a large collection of Gibsons, Fenders, and guitars made by other manufacturers...
Bob Daisley Yeah I've been collecting them for a long time but I think I really started seriously collecting them in the late '70's. In those days I just had two Precisions. Then the first one that I added to the collection was the 1963 Hofner Beatle Bass which I bought from Orange Music in London and I paid about 90 quid for it. I thought gotta have one of those cause Paul used one of those and it'd be a good thing to have. At the time I bought it out of ignorance because I didn't know that 1963 was the year to have because there were others, they made lots. There were the ones they churned out in '64,'65,'66 after he was known to have used one but the one I got was a '63 which was the same year as the one he had so that's the year to have.
GibsonBass You managed to pick up the right one at the right time then.
Bob Daisley Yeah, I didn't realise it, I thought well that's nice I want one of those so I got it.
GibsonBass You've obviously got a very interesting collection of basses and not just because it includes some fine examples of vintage basses but some of your basses have had interesting owners like the Framus that was formerly owned by Bill Wyman, how did you come on to own that bass?
Bob Daisley Well, I saw the Rolling Stones in 1965, the original line up with Brian Jones. They were young lads themselves and I saw them in January '65, I was still 14 and I was so impressed. I was used to seeing Bill Wyman in either films or photographs using his big bodied Framus bass you know the sort of cherry or maroon coloured one but this time when I saw them live for the first time he came out with that humbug finish small bodied Framus bass. I was very, very impressionable in those days being a fourteen year old kid, I'd just began to play myself and seeing that and seeing him live use that I thought god I'd love one of those.
Since then I've been after one and they're like hen's teeth, you can't find them anywhere, they must have only made a few. I suppose he had a few them cause he'd probably have more than one on the road with him in a band like that and I used to put the feelers out. I had friends in guitar shops in London and in America and when they went to guitar shows you know I'd always say look keep an eye out for a humbug cause it's just something that I got a bug for then you know, I had to have one.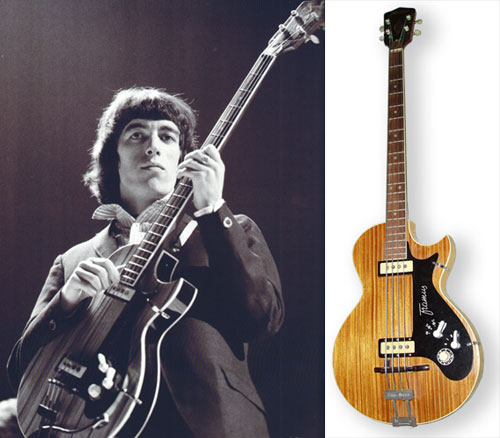 Left: Bill Wyman in 1965 playing a Framus, and right: Bob Daisleys Framus
It took me about forty years cause I think it was 2005 or something, somebody sent me an email and said there's a bloke in America and he's got a humbug finish Framus and it's supposed to have been one of Bill Wyman's. If you look at the one Bill Wyman used in the Stones most of the time in those days his has got dark edges but mine hasn't. It's still supposed to have been one of his. Now it's in pretty good nick so maybe it was a spare or something if it was his. There's no real proof but the bloke I got it from in America said that he'd brought it from a doctor that had had it for over twenty years that said it was definitely one of Bill Wyman's. I just wanted it as a collectable piece and it was something I always wanted from being a kid and I actually used it. We did an album with my blues band here the Hoochie Coochie Men, which Jon Lord (Deep Purple) plays keyboards with us when we do stuff and I used it on a track. We did a cover with Jimmy Barnes singing Heart Of Stone which was my idea to do that song, a very early Rolling Stones song from about '64 and so I thought well what better song to use the old Framus on so I used it on that song.
GibsonBass Having been after one of them for so long how does the bass feel to play and sound, has it met your expectations?
Bob Daisley Oh I probably would have enjoyed it more as a kid because it's ok but they were a low budget bass. It's good but probably limited in what I would use it for now. It's just lovely to have as a part of a collection it's very, very rare.


1964 Rickenbacker 4001S bass
GibsonBass Definitely. One of the rarer basses you have in your collection is the 4001S Rickenbacker bass.
Bob Daisley Yeah, the Rickenbacker 4001s is very, very, very rare. It's another one that took me years and years to get. It took me probably 15 years of hunting around asking people for one of those as well cause there are lots of Rickenbacker 4001 but the 4001s is the same dot neck one like the one McCartney had in the days of The Beatles around Magical Mystery Tour and Sergeant Pepper. Apparently they only made about 150 of them and there aren't many original ones left. Even McCartney's had had the finish taken of it, it was fireglo when he had it in The Beatles but now he's got all the paint taken of it so it's just wood colour. That's a real rare one and I use that on a couple of tracks on the Hoochie Coochie Men album and it has got that McCartney sound you know it's a lovely bass it's a nice one to play too. It's not ideal for every track on the album but for some of them it was really good and.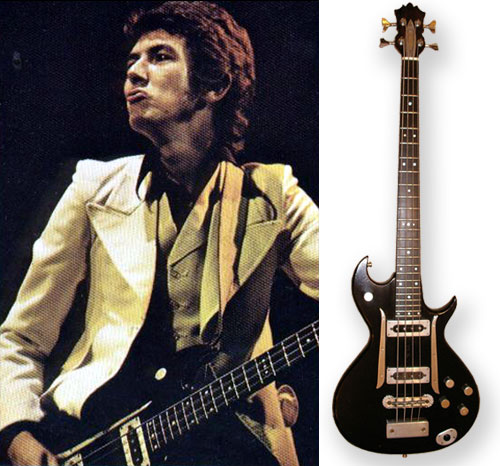 Left: Ronnie Lane plays his Zemaitis bass, and Right: the bass today
GibsonBass And you have two basses by Zemaitis, including one formerly owned by Ronnie Lane
The Ronnie Lane Zemaitis, that's one I saw him use live in London in the early 70's when he was with Rod Stewart and The Faces and I remember trying to track Tony Zemaitis down to see if I could get one or how much they would be when I was in London but I never ever did. Eventually, it wasn't until about '90 that somebody phoned me and said I've got a number for Tony Zemaitis if you wanna contact him and I did. I went to his house and talked about The Faces and the sort of thing I want so he made me the single cutaway Les Paul sort of shape with the metal front engraved by Danny O'Brien. I asked him about Ronnie Lane's bass and he said "oh that one's just a one off, I made that for Ronnie and he brought along his own pickups". They were vintage Fender bass pickups, the straight pole ones, the early 50's ones and he put those on there. After that I became an honorary member of the Zemaitis owners club. They send me this news letter thing and I noticed it must have been early 2005 that there was an ad for Ronnie Lane's bass and I thought god now there's one to have in your collection and a bloke in Australia had it. I phoned the guy in England, Keith at the Zemaitis owners club and then he gave me the details of this bloke here and I ended up having a deal with him for it. There was only one of them in the world so it was a very rare one. The value of Zematis have gone through the roof in the last few years since Tony died as well because he didn't make that many when he was alive, there aren't many around. I know there being reissued in Japan through the name Zemaitis and there's also a bloke in Newcastle in England. He just goes under the name of Dave Of England and he's got all the tooling and the patterns and jigs and things from Tony Zemaitis himself and he makes them. His have the real Danny O'Brien engraving on them which I think makes them more attractive than the ones in Japan which are just done from a machined template. I had an acoustic fretless bass made by Dave Of England last year and Danny O'Brien did the engraving on it.


1959 Danelectro Longhorn bass


Early 1960s Harmony H22 bass
GibsonBass Another bass favoured by Ronnie Lane in the early days was the Harmony H22
Bob Daisley They were another low budget thing in the early to mid 60's. American, the Harmony and I always wanted one just out of curiosity. I saw one in Los Angeles in the early 90's and it wasn't much, it was like 500 bucks or something so I brought that and it's a great little bass. I remember that Muff Winwood with the Spencer Davis Group used one and Ronnie Lane used one with The Small Faces in the early days. They do have a distinctive sound and they are a pretty good little bass.
GibsonBass Yeah, I was listening to Ogden's Nuts Gone Flake the other night and you can hear that sound on there.
Bob Daisley Yeah, and the bass sound with the Spencer Davis Group was quite distinctive as well. Things like Keep On Runnin' and Gimme Some Lovin' and all that sort of stuff.
Thanks to Graham Fieldhouse and Bob Daisley for making this interview possible. Images courtesy of bobdaisley.com