Bob Daisley Introduction
Bob Daisley with 1961 Gibson EB3 bass - picture from the Kahvas Jute reunion gig www.kahvasjute.com
By Graham Fieldhouse, February 2007 Bob Daisley has played bass with many of the hard rocks greats; performing on numerous albums by the likes of Mungo Jerry, Rainbow, Ozzy Osbourne and Gary Moore to name a few. His fall-out and subsequent court case with the Osbournes has been well documented but his fantastic collection of vintage guitars has not. We spoke to Bob about the instruments he owns, which of course includes some interesting Gibson basses!
GibsonBass The name Bob Daisley has been familiar to me for many years now because of the long list of artists that you have played, and written with during your long on-going career. You must have some great memories from that?
Bob Daisley Well I always regard my career as being very fortunate in as much as I've always been doing something, not everybody can say that I suppose. Some people have a good career for a while and then go and open a chip shop or something but I've gone from one thing to another that seems to have been always with good players, good people. I regard myself as fortunate having done that. Several people have asked me when are you going to do a book because there must be so many stories, and there are. I'll probably just save those for the book and go through my diaries, there is no one story that stands out above the rest. There are lots of little ones, lots of funny things, tragic things, road stories and all sorts.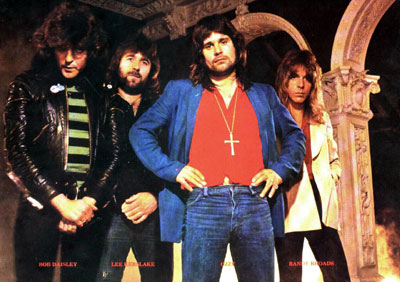 Blizzard of Ozz, 1980. From left to right: Bob Daisley, Lee Kerslake, Ozzy Osbourne and Randy Rhoads

GibsonBass Well you've worked repeatedly with Gary (Moore) and Ozzy (Osbourne), I'm quite interested to ask you what it's been like working with Gary because you've recorded on and off with him for a number of albums and I understand you're good friends?

Bob Daisley Oh yeah, Gary and I have remained friends over the years even when I haven't been working with him. I think my first work with Gary would have been the end of '84. He was in Island studios around Notting Hill, you know Portobello sort of area (London), I went in and did some tracks on an album Victims Of The Future. I'd known him before then, we'd talked and met but from then on it seemed to go on to other things. Then later as obviously you know I hooked up with him again. I went to Ireland with him beginning of '85 I think it was or that could have been the end of '84. He was doing a live video Emerald Isles and I went there and did that with him and they filmed it, we played in Dublin and Belfast. I was working with Ozzy at the time, he (Gary) said look you know if you're ever not in that situation come and work with me. So I think it wasn't that long after that in '85 when Ozzy and I had another fall out I went and joined Gary permanently.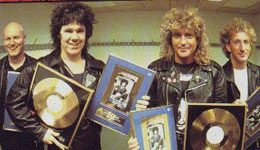 The Gary Moore band, 1989 line up
GibsonBass You recorded on the Wild Frontier album didn't you?
Bob Daisley There was one before that, Run for Cover, Wild Frontier, After The War, Still Got The Blues, After Hours, and then later, I didn't work with him for a while although we remained friends and stayed in touch. I hadn't worked with him for about ten years and I got a phone call out of the blue which would have been I think at the end of 2003. "I'm in London next week doing an album do you want to play on it?" I flew over to London and that was called Power Of The Blues that album. I really liked that album it's got a nice rawness about it and spontaneity. I think he finished it in early 2004 and it got released in about June 2004 or around there. I don't think it got the promo that it deserved or the airplay really. I think it did ok but it wasn't a high profile album and I think it should have been. You know he played so well on it and I thought it was a good raw ballsy blues album.
GibsonBass Definitely. What's Gary like to work with when you go in to the studio?
Bob Daisley He's very disciplined and he knows exactly what he wants and if you're conscientious and you're professional and you're good at what you do then he's fine, I've always got on with Gary. I suppose not everybody has but he's a little bit of a taskmaster. I think that's a good thing and he's a bit like Ritchie Blackmore was, knows what he wants and if you do it then fine.
GibsonBass Well you've worked with Gary but you've also worked with other talented guitarists such as Ritchie who we've spoken about, Randy Rhoads, Tony Iommi, Jake E Lee, Yngwie Malmsteen, Steve Vai, Steve Morse and Zakk Wylde. Which of those has left the greatest impression on you?
Bob Daisley They're all good in their own way and they're different and so it's very difficult to compare them, they all slotted in to their niche perfectly for what they did. You can't really compare somebody say like Ritchie Blackmore to Randy Rhoads or Yngwie Malmsteen to Steve Vai or that sort of thing. I was impressed with all of them as players, dedicated musicians. Randy Rhoads was a dedicated musician, he'd been brought up in a musical environment and his mother ran a music school in Los Angeles and I think he started playing when he was about five so by the time he was a teenager he was teaching there. I remember when Ozzy and I were first getting the band together in England and I was at Ozzy's house in Stafford and he'd had a local drummer and guitarist that were ok to sit in with us to see if it was going to work. Ozzy and I got on very well together and then he told me about this guitarist because I'd mentioned to him look if you want to get serious about this we've got to get world class musicians. He said, "oh I know a great guitarist in LA, he's a music teacher". When he said that I envisioned somebody with sort of a cardigan, pipe and slippers you know but it was Randy he was talking about. Jet Records who Ozzy was signed to and the new band was going to be signed to flew Randy over and the three of us Ozzy, Randy and myself started to audition drummers and write stuff together. Obviously that's a very memorable time in my career but in one way or another they all have been.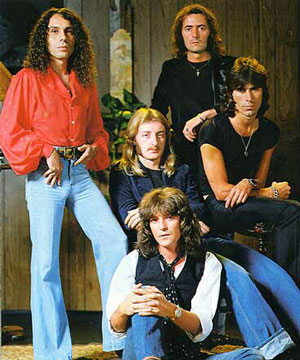 Bob with Rainbow, 1977
You know my time in Rainbow was just as memorable because that was a great advance in my career, it was first real big serious heavy rock band that was like an arena band, we did big shows. It was a real eye opener and a great thing to learn from.. Just last year there was a DVD released of Rainbow live in Munich in 1977.
GibsonBass Yeah, I actually got the DVD for Christmas.
Bob Daisley It was a long time coming because it was only a television show meant to be shown on German television, it wasn't recorded as a product to release. There were bootleg versions of it flying around for years, you know bad copies, second generation ones with bad picture and bad sound. That was the only thing available and then it got released properly, an official release with some extra stuff on it (including a recent interview with Bob). I thought it came across very well, I'd only been in the band about two months at that stage so it wasn't far in to my career with Rainbow but I think when I saw it again after all that time it comes across quite well.
GibsonBass Well yeah, especially given the circumstances behind the gig with Ritchie being in prison and only just making it to the gig?
Bob Daisley Yeah that's right because normally I think we were meant to go on at around 8 or 8.30 at night and Ritchie was on his way back from Austria, Vienna being in prison and we weren't sure if he was going to make the gig. Then we got the ok that yes he'll be here but all be it late so I think we went on at about 11.30 or midnight but the audience was very good, they were very patient and only a few people left because of public transport and they had to but everyone else you know they could have said oh bollocks give us our money back were going home but they didn't.
GibsonBass Or these days started a riot?
Bob Daisley Yeah that's right but they were very good.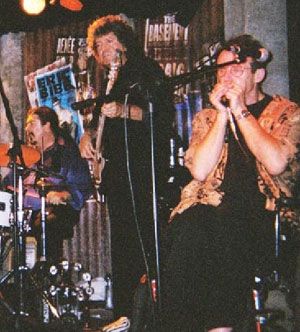 Hoochie Coochie Men live at the basement
GibsonBass You've currently got a band together called The Hoochie Coochie Men, how did that come about?
Bob Daisley I had a little blues band here called the Hoochie Coochie men and Jon Lord was out here in 2003 and I chap that I know in Melbourne phoned me and said "do you know Jon Lord?" and I said "yeah". He said "oh well he's staying in Sydney at the moment". I said "oh I'll give him a call where is he?" He said "Whale Beach", I said "that's just down the road from me". So Jon and I hooked up and we had dinner and then we talked about doing some stuff and we ended up arranging a gig in Melbourne, a gig in Sydney and one in North Australia in Queensland and the one in Sydney at The Basement was filmed and that's a live DVD as well. That's a pretty good one, it's blues but it's pretty interesting. It's nice the way Jons fitted in cause he's the guvnor of the Hammond organ.
GibsonBass Definitely.
Bob Daisley So that's why last year I said to everybody well look we did that live thing at The Basement with Jon and The Hoochies and that let's do a studio album.
GibsonBass Yeah, you came over to the UK
Bob Daisley I took the audio files over to London and we recorded Jon's parts in Olympic studios in Barnes and then came back here and then Ian Gillan sang on a couple of tracks as a guest. So we got Jon Lord and Ian Gillan back together which was nice. It's all turned out great. This album it's a blues album but it's definitely got a strong rock edge to it, it's a bit more aggressive and bit heavier.
GibsonBass So when's that due to be released?
Bob Daisley Oh it should be released probably in September/October this year because we're just in the last stages of mixing that now and working on the art work and it'll be the title of it is "Danger White Men Dancing", a bit of a tongue in cheek title but it's turned out really well so everybody's very pleased with that one.