Potentiometer Codes On Gibson Bass Guitars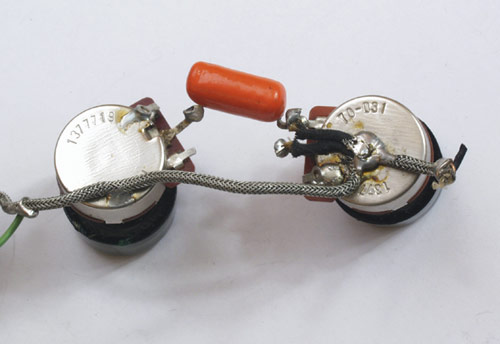 Wiring loom from a 1977 Gibson Grabber. Notice the pot code 1377719 which indicates that it was made by CTS in the 19th week of 1977

Just like the basses themselves, the potentiometers (the volume and tone dials) have a serial number stamped into them. This is an invaluable tool for dating vintage Gibson Instruments. The Gibson serial number system can be very difficult to interpretate to say the least - whilst the pot codes had a simple system in which the date of manufacture was encoded into the numbers stamped into the casing. Usually on the back, as shown in the picture here, or sometimes on the side.
How to Read Pot Codes
Most Gibson basses use pots made by a company called CTS (Chicago Telephone Supply), which has a manufacturers code of 137. CTS codes are in the format 137-year-week. So in the example pictured 1377719 would indicate a CTS pot, manufactured in the 19th week of 1977. Gibson did use pots by other manufacturers, but less often - one such manufacturer is Centralab, code 134, which appears on a lot of early 60s guitar pots.
The other number on the pot 70-031 is the Gibson part number. For more information about part numbers, and ratings, see the VintageGuitar Gibson Pot Database
When dating an instrument using pot codes, it is important to remember that pots can be changed, or fitted way after they themselves were made, so any conclusion must be in line with other features, such as hardware and serial numbers.