Gibson produced the RD Artist bass for just four years; 1977-1981, making this example one of the earlier examples. The serial number 70568120 tells us that this bass was stamped on the 25th February 1978 (day 056), at the Gibson Kalamazoo plant, and was the 120th instrument stamped that day.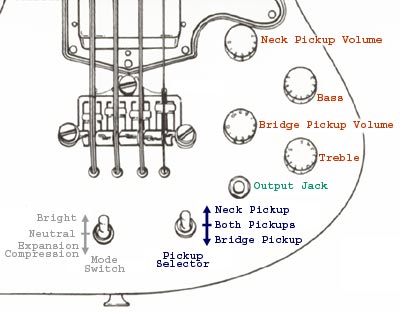 This RD bass has the first series switch configuration, as detailed in the diagram (left). See the RD Artist technical page, for a view of the mode switch from inside the body of the bass; it is not a simple three-way toggle. The technical page also shows the two-switch system that replaced it. The disadvantage of this early switch system is that expansion/compression could not be used simultaneously with the bright mode. On later models it can.
Fireburst finish was one of the initially available colours, but was discontinued (at least, removed from the price lists) in June 1979. This burst uses much stronger colours than is typical for a Gibson sunburst; it's even been called a ketchup and mustard burst.
Like all RD Artist basses, the guitar pictured above has mark V active humbucking pickups, the standard Gibson 3-point chrome bridge, and Schaller BM machine heads.