Part 3: Progressive Rock; Fuzzy Duck and beyond
FG Fuzzy Duck was (from left to right) Graham White (later replaced by Garth Watt-Roy) (guitar), Paul Francis (Drums), Mick Hawksworth (Bass) and Roy Sharland (Hammond organ). Managed by Gordon Mills (who also had Tom Jones and Gilbert O'Sullivan on his books), they recorded one, now highly saught, album and two singles in 1971.
How did it come about?
MH I answered an add in Melody Maker - you know, bass player wanted. And I thought, oh, it's nice to meet a couple guys who can play. As for the name, the drinking thing is not right. The guy who designed the sleeve, Jonathon Coudrille, his missus thought of it. A great name for a band. He asked if he could do the artwork for the album, and I said, yeah, well, it's got to be the duck hasn't it? I specified the starry T-shirt and the shoulder bag, and the rest is his... that's me by the way: the liquorice roll-up. I always smoke liquorice.
I played on Gilbert O'Sullivan's only single that never did a thing along with Paul Francis. It was called Underneath the Blanket Go. We recorded it before the duck album was out. Check it out on YouTube
FG Bass and drums lock in really well on this. You and Paul Francis get some real grooves going, a bit of a style change since the Andromeda days. Who were you listening to at the time?
Mick Hawksworth playing his Danelectro longhorn bass, (with Steve Waller)

MH I think it's just progressed really. Probably slightly better technique, you know, broadening horizons. I've always loved the American bands of the late sixties. They blew our guys away really. Spirit. Have you seen Spirit live? Oh, they made the Who look stupid. And we all know how good the Who were. They were brilliant, absolutely brilliant. Sly and the Family Stone. He never made it past four bars on their opening number before the entire audience stood up. Moby Grape, a bit weird and off the rails, obviously, but you know, a really good band. Zappa. What more can you say about that man. Wonderful.

I like the album, and I like the band. It was a good band, and we weren't too serious about ourselves. We didn't have a big mission to accomplish. I don't know which I prefer, the band with Graham White in; the way that the material went at that time, or with Garth Watt-Roy in. Because I like Garth's songs, and I liked the way we did things, but we lost that thing of stealing off into unexpected directions. His brother Norman (Watt-Roy) used to come along sometimes; he was a nice bloke.

FG It sounds like you influenced Norman Watt-Roy's playing. The bassline to One More Hour reminds me of things he played several years later with Ian Dury.

What equipment did you record the album with?

MH All Danelectro. It would have been a Sound City head with the Hiwatt cabs, 4x12s. I never did DI. We did the album first and then we started gigging, and after the first couple gigs, they said we've got to get you better bass gear; what do you want? Acoustic 360!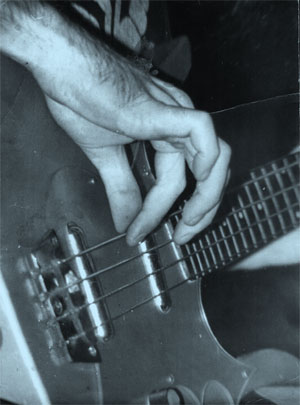 Mick playing the Danelectro Lonhgorn bass, early 1970s

Original programme for Mountain and the Jimmy McCulloch band at the Rainbow theatre London, 1972

FG After Fuzzy Duck you played with a lot of different bands: Landslide (featuring Graham Bond), Killing Floor, Cliff Bennett's Toefat, Charley Horse, Ross, and you toured with the Jimmy McCulloch band?

MH That was quite a good band really, but Jimmy was a bit wild. We did one Hellish tour supporting Mountain, in a bloody Hillman Avenger - my God - you really don't want four blokes and their guitars in one. Great tour, loved it. Lesley West used to appear in the doorframe of our dressing room every night. They were great, really nice. Jimmy's guitar had been stolen, and Keith Richards had lent him an old Les Paul, and Lesley West didn't realise it wasn't his guitar, and every night he'd go "I'll give you a thousand bucks for that guitar Jimmy!".

FG Did any of these bands record?

MH Yes, but there was nothing that was released; i've got stuff by the Human Orchestra. Ross recorded, but only demos. (Charlie Horse) a couple of nice demos. We almost got a deal with DJM, but at the time I'd been to see the Ross band, and they'd asked me to join and go on this six week tour of the States, and DJM were quibbling about a stupid piddling sum of money. You know, I'd have preferred to stay with the Charlie Horse band, because it was a great band, but what do you do? It was one of the most difficult decisions of my life. With all the experience I'd had of record company's just signing you as a tax loss, I thought well, i've got six weeks of touring America, decent money and decent prospects; because they were signed to Stigwood, or i've got DJM quibbling over two or three grand. I still don't know whether I made the right decision or not to be honest. Often happens though.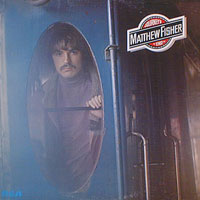 Matthew Fisher's 1973 album, Journey's End

FG But you did record one album, Journey's End, with Procol Harum keyboardist Matthew Fisher in 1973?

MH I borrowed a jazz bass for that. I went along and we did a bit of playing together. He wanted to know if I knew a drummer. I said I know this guy called Geoff Swettenham. Geoff turned up, Matt Fisher liked what he did and the three of us did the album together. It's very low key, it's not in your face at all, and it's not really me... not a style of music I'd played before then, but it was an extremely instructive album to make. And Mathew Fisher being a keyboard player, and an excellent one at that, had great learning, a great background, and pointed me in a few directions. There are nice instrumental passages all over it, but a very very low key album. My only input really was playing bass. A lot of it is a tirade against Procul Harum, because he was treated like absolute crap.

FG The early part of your career is characterised by the use of short scale basses, the Gibson EB0, but moreso the Danelectro longhorn? Why the change

MH The Danelectro was stolen from the band's truck in 1974, along with my Acoustic 360 pre-amp, after the roadie promised me faithfully that he would take them into his house. I'd put a lot of work into the bass, like replacing the daft machine heads with a set of Schallers, getting the action perfect, designing and making a custom shaped clear Perspex scratchplate, with a Salvadore Dali print underneath it, and finally resprayed in a pale metallic blue: Ford Silver Fox! It was stolen just before I went to the States for the first time with a band called "Ross". We were to play two weeks in clubs and then join the Doobie Brothers tour for a month. And me with no bass...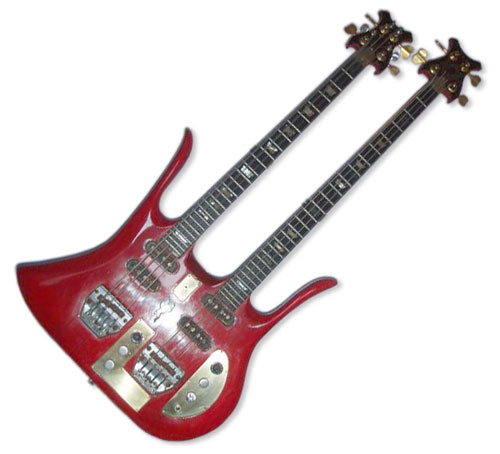 This mighty beast had to have a name. If B.B. King's guitar was called "Lucille", this monster had to be "Igor"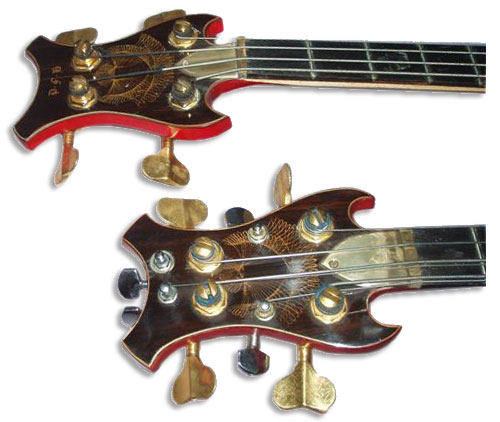 The pattern on the heads was a result of me using a metal scribe in a "Spirograph", (remember them?) to gouge the design into the wood, which was then filled with the same epoxy / brass mixture, and the excess sanded off

MH I'd begun to realise that the really low bass end I was looking for, could only be had from a long scale bass, and having seen Larry Graham with Sly and The Family Stone, it had to be a Fender Jazz bass. A Friday night Fender Jazz bought in Nashville. It was the only one in the entire city! I was a bit dubious about it, playing it in the shop, but I figured I could do something with the terrible action. We were working that night, so I had to buy it. What an unutterably vile piece if shite. Not only was it a pig to play, it sounded crap as well. It would have made a fairly useful garden spade though. "Skunk", (Jeff Baxter, playing with The Doobies at that time) very kindly took the neck off and inserted a pick in the neck slot in the body, which helped to lower the neck a little and made it nearly playable. No amount of truss rod adjustment made any difference to the neck angle, or the twist near the nut end. Like I said; a complete pig. Made me realise that Fenders weren't for me.

MH In 1976, knowing that I still needed a long scale bass, but sorely missing the Danelectro's wonderful short scale feel, I arrived at a very large decision. At the time, I shared a house with a few other people and one of the guys started making guitars: and he was really good at it. I finally asked him to make me a double neck bass: long and short scale. I designed the beast myself, using shapes stolen from an Epiphone solid guitar and a pair of exaggerated Danelectro Longhorns. It was paid for by selling the Jazz bass and the EBO, which was bought by Mike Oldfield. The pick-ups were hand-made, using a compromise between Fender's 10,000 turns and Gibsons 15,000 turns of wire. They were to be mounted in a trough encased in epoxy resin, with a high brass powder content, in an effort to get a clean, undistorted sound; I'm very heavy with my right hand, I used to break bottom E strings on a regular basis! The body is bird's eye maple with ebony fingerboards. The long scale neck is 34 inches and the short scale 30 inches, the same as the Danelectro. The long neck has 27 frets, and the short has 26. The pattern on the heads was a result of me using a metal scribe in a "Spirograph", (remember them?) to gouge the design into the wood, which was then filled with the same epoxy / brass mixture, and the excess sanded off. The splendid guy who made it for me was Peter Fabio Barraclough: PFB Guitars. This mighty beast had to have a name. If B.B. King's guitar was called "Lucille", this monster had to be "Igor". I loved him. The sound wasn't quite as good as I'd hoped for, though it is crystal clear, but the action and feel is beautiful. The plan I had for the electronics never really worked: I wanted a master volume, a master tone, plus a stereo pan pot between the two. The problem was that the level would plummet as soon as you went from 'full off', or 'full on'. Damn! I've just realised how to do it! The really big problem though, was that the short neck just wasn't up to it sound wise. It wasn't hard, or percussive enough. Even so, the lower string tension allowed me to bend strings by a tone and a half!