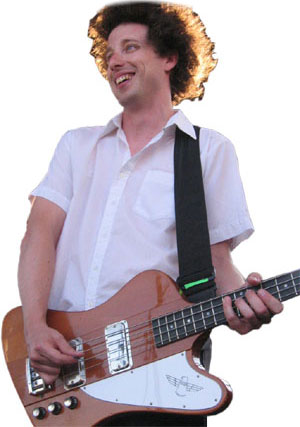 Introduction
By John Fertig, March 2007 Justin Meldal-Johnsen is the bass player & music director of the artist Beck, as well as well as performing or recording with Air, Ima Robot, Tori Amos, Garbage, Macy Gray, Mars Volta, Marianne Faithful, Nelly Furtado, Dixie Chicks, and more. Justin also has done work on movie scores including Ocean's 13, The Devil's Rejects, Team America World Police, Starsky & Hutch, Charlie's Angels, Nacho Libre, and many more
His inspired and creative bass playing covers many genres in popular music today ranging from old school thump on songs like Beck's "Sexx Laws" (Midnight Vultures) to experimental crazy fuzz bass on Tori Amos's "Cruel" (The Choirgirl Hotel) or driving fundamental grinding rock on song's like Ima Robot's "Dynamite" (Self Titled- Ima Robot). Justin's playing takes on a different dimension that fits the artist and the song alike. But Justin-Meldal Johnson is more than just a session bassist; he has also acted as live musical director for Beck, Gnarls Barkley and Air. He produced artists such as Ken Andrews, Holly Palmer, new artists Canon and Reeve Carney. Justin has co-written songs with artists such as Shirley Manson and Macy Gray.
JMJ is currently working on original music and music supervision for a movie in production called "The Informers". Also, recording new material with Beck for his next record.
Justin explains his role as bassist, producer, and musical director.
GibsonBass Why did you start playing bass and at what age?
Justin Meldal-Johnsen (JMJ) Because a friend of my parents gave me some crazy Japanese Jazz Bass copy when I was twelve, and I wanted to play along with MTV. Boo yah.
GibsonBass Any formal training?
JMJ I had, on and off for a year, some great lessons with The Faunt School here in LA right after high school. It's unique in that they are private lessons that are actually based on an expansive curriculum. Lots of emphasis on ear and rhythm training.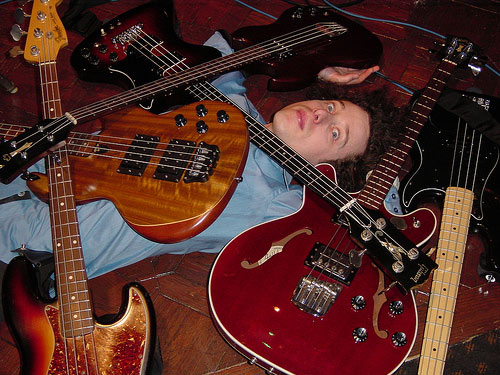 Buried in bass - an RD Artist, Guild B301, Starfire 2, Fender Jazz and 1979 Wal Pro IIE. At a Macy Gray session, 2002.

GibsonBass What are your favorite bass players or your bass influences?

JMJ Peter Hook, Tony Levin, Robbie Shakespeare, Tina Weymouth, Bootsy, Graham Lewis, Paul McCartney, Chuck Rainey, Joe Osborn, James Jamerson, David J, Jah Wobble.

GibsonBass When did you decide play bass as a profession?

JMJ I think I always did. It was into that right when I got my bass. I'm so happy, even now, to realize that I do this for a living. It's like a constant realization. I just love playing.

GibsonBass You seem to get a lot of work, what is it you bring to the table as a bass player?

JMJ A great listening skill, a positive outlook, good taste, and desirable tones. That seems to be the combo.

GibsonBass Do you do any production work?

JMJ Yes indeed. Just co-produced a Ken Andrews (ex-Failure) solo album (Secrets of the Lost Satellite
), Holly Palmer, Reeve Carney, Ima Robot, various things. I'm liking producing, but I can't stop playing bass, and I don't see how I ever could.
Beck playing live

GibsonBass It seems that a lot of bass players make great producers, why do you think that is?

JMJ Because the bassist, more than any other role in the band landscape, listens to the interrelationships between all things. That sets his ears on constant alert, if you will. I find that in order to bridge harmony and rhythm, I have to have, in my periphery, a bird's eye view of what everyone else is doing. Same for production, obviously.

GibsonBass Do you find producers today, favor a passive tone?

JMJ Unequivocally. I can't bring in an active bass, and the only one I have anyway (besides an RD, which doesn't really count, in my book) is a Wal, and that is a very unique voice, thankfully.

GibsonBass Ima Robot really remind me of the band Sparks, fun music! Are you still working/playing with them?

JMJ Thanks. That's a big influence for me. No; the boys are out on their own. I liken myself to being their benevolent uncle, though.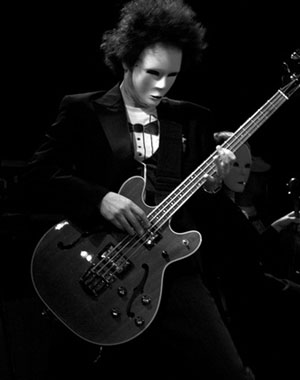 Justin playing live for Gnarls Barclay, April 2006

GibsonBass Do you do any singing?

JMJ Yup. I'm always doing backgrounds.




GibsonBass What work did you do with Gnarls Barkley?

JMJ I was hired to be their bassist and music director, which is what I do for Beck. Unfortunately, I could only do two shows (their first two ever), and then it was over. I acted remotely as their music director, however. Even now, I'll help them if they need anything.

GibsonBass Were you one of the Storm Troopers on the Grammy Awards show a year or so back with Gnarls Barkley, playing the Les Paul Standard?

JMJ No sir. That was my excellent replacement, my friend Cedric from Remy Zero

GibsonBass Do you ever plan on having your own band or do you just enjoy working/producing other people's projects?

JMJ Always. That was the point of Ima Robot. I like bands. I'll probably do another.