Bobs Fender basses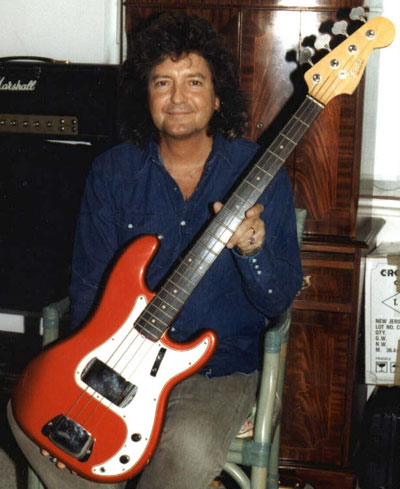 GibsonBass Your collections obviously dominated by a large number of Fender basses and Fender appear to be your chosen workhorse. Is that because you find those most practical for live work and recording?
Bob Daisley Yeah they've always been very versatile you can get lots of different sounds out of especially a Precision bass. Very versatile, very reliable, very robust for travelling. I love Gibsons for some stuff but sometimes you only have to look at them the wrong way and the head falls off, they're notorious for that though. If they fall or they get transported the wrong way or they are not packed properly the head can break off, it's always the head that goes first. I've had that happen to a couple of mine but the Fenders are very robust and you could probably throw it across the room and it'd be still in one piece you know. You've got to really mean to break one, somebody like Ritchie (Blackmore) or Pete Townsend to break a Fender, they're very robust. You know I've always found them very versatile.
GibsonBass What was your first Fender
Bob Daisley I actually got a Telecaster bass at first which was ok but when I joined Chicken Shack with Stan Webb I ended up getting the 61 Precision bass and I remember Stan saying to me "Oh you won't be sorry, you'll have that for the rest of your life". That's one I've really hung on to and it's been great, it's been really good, a real workhorse, it's been on so many records and albums and done so many tours.
Chicken Shack in 1972 - Bob plays an early Fender Telecaster bass, and below, the 1961 blond Precision, bought shortly afterwards

GibsonBass In '72 Fender edged into Gibson territory by putting a large humbucker right up by the neck of the Telecaster bass. Your original Tele didn't have this, but have you now got a humbucker equipped Tele in your collection?
Bob Daisley No, mine's the '68 Paisley which is another pretty rare one but that hasn't got the humbucker it's the one with the early Precision straight pole pickup.
GibsonBass What's it like in terms of tone compared to the other Fenders that you've got?
Bob Daisley It's nice, you know it's got nice playability and it sounds good. Very similar to the early 50's ones, I have got a couple of early 50's ones, a 53 Precision, the butterscotch with the black pickguard, that's really nice, I like that one and the other one I've got is the '55. Same sort of thing but with the contoured body.

1968 Fender Telecaster - paisley finish
The pictures below show a selection of Bobs Precision and Jazz basses
Six Fender Precision basses, from left to right: 1953 blond, 1954 Sunburst, 1957 Sunburst, 1959 Sunburst, 1962/3 Olympic white, 1964 Sunburst

Two Fender Jazz basses: a 1962 in Fiesta Red, and a 1964 in Candy Apple Red