Gibson Les Paul Triumph bass
The Les Paul Triumph was Gibson's flagship bass guitar: both in terms of build and electronics. Naturally it had a price to match (see Gibson Triumph pricing). Design was a collaboration between Gibson and Les Paul himself. It was launched in late 1971 as a replacement to the older Les Paul bass which was available from 1969-1971. The main change was the addition of a Hi-Lo impedance selector switch. In an interview with Dave Pomeroy, Les explains...
"With a balanced low-impedance output, you could use long cables without all the problems inherent in unbalanced high-impedance lines. Gibson was keen on having the low-impedance transformer close to the amp, so we made a special cable with a transformer on the other end, which you had to have in order to use it. But if you forgot your cable, you were out of luck—so we added the switch to go from low to high impedance. I tried to talk them out of staying with the short scale, but they didn't want to change to a longer scale like on the Fender. One position on the Les Paul Bass was meant to sound just like the Precision, and all the other settings were extra choices for the player. The Triumph sounded so good it was scary; it was the finest bass I knew how to come up with, but the kids of that time were not ready for so many options. If I could have done something different, I would have made a bass with one great sound. Simpler is better—like a water faucet"
Les Paul also narrated a protional flexi-disc for the Les Paul Recording Guitar and Triumph bass - see the 1971 Gibson Low Impedance catalogue.
Other changes from it's predecessor were cosmetic; all controls were situated on the front mounted control panel. The standard finish was natural mahogany, with white becoming available from 1975(?). This bass also featured the split diamond inlays on the headstock.
Specifications:
Honduras mahogany body with dark binding
Laminated mahogany set neck, with rosewood fretboard
Natural mahogany or white finishes
30 1/2 inch scale (actually three eighths of an inch). 24 frets
Hi or Low immpedance modes
Body size length: 17 1/4" width: 12 3/4" depth 2"
Width at nut 1 1/2"
Shipping figures are very confused for this model, but are as follows:
| | | | | | | | | | | |
| --- | --- | --- | --- | --- | --- | --- | --- | --- | --- | --- |
| | 1971 | 1972 | 1973 | 1974 | 1975 | 1976 | 1977 | 1978 | 1979 | total |
| Les Paul Bass | 321 | 768 | 959 | 526 | 2 | 2 | | | | 2578 |
| Les Paul Triumph Natural | | | | | 126 | 82 | 101 | 57 | 27 | 393 |
| Les Paul Triumph White | | | | | 80 | 87 | | 23 | 17 | 207 |
So whats wrong with these figures - The old style Les Paul bass was still being produced in 1971, so the first years figures include some of (or even only) this model. The Triumph was first announced in 1971, but it may have been the case that it was not shipped until 1972. So Clearly from at least 1972, all Les Paul basses were the Triumph, which begs the question, why do shipping figures not count it as a Triumph until 1975. 1975 was of course the year that white finishes became available, so all basses simply labelled 'Les Paul Bass' would have had Natural Mahogany finish. The four basses labelled as Les Paul Basses made between 75 and 76 are a further anomaly. If anyone has an explanation, i'd love to hear it! Shipping figures are not available for the 1980s, but Triumph production did continue at least into the first few months of 1980.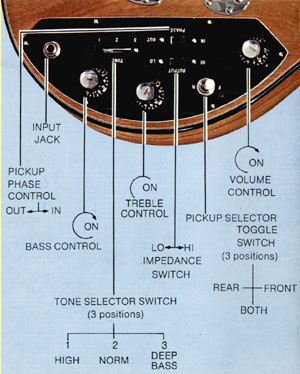 Controls
Bass, Treble and Volume Self explanetory. The bass and treble have a very wide range.
Tone Selector Three settings: hi, normal and deep bass.
Phase Control Only works when both pickups are selected
Impedance Selector Hi for live use or Low for studio use (or live use with a Low-Impedance amplifier)
The Les Paul Triumph was capable of making a wide range of sounds; deep bass, clear midtones, and bright treble - plus a whole lot more in between. Check out a 1972 LP Triumph, and hear some more sound clips.
Rarities
Prototypes at least one single pickup Triumph exists. If you are aware of another bass like this, please get in touch
Frequently asked questions
Was the Les Paul Triumph available as a long scale? No, the Triumph was available as a short (30 1/2\") scale bass only.
What strings were recommended for the Les Paul Triumph bass? Originally the Triumph was shipped with Gibson brand 0055 strings; flatwound, medium gauge: .048, .054, .076 and .095.
What is the recommended action for the Les Paul Triumph bass? First fret: E string 2/64\", G string 3/64\", twelfth fret: E string 8/64\", G string 10/64\".
Did Gibson produce the Les Paul Triumph bass into the 1980s? There is no official data on this, however Triumph basses certainly exist from the first half of 1980.