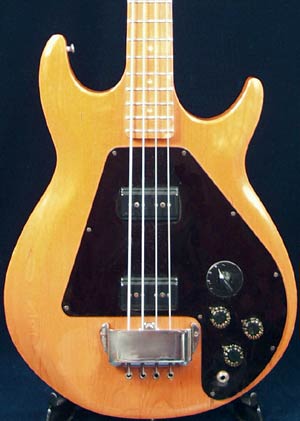 1976 Gibson Ripper - more images and sound clips of this middle-period alder bodied bass
Gibson Ripper L9-S Bass
Solid alder or maple body, maple neck. 34 1/2 inch scale.
The Gibson Ripper was launched in 1973, as something new for the guitar buying public, who had began to tire of the EB basses that had dominated the 1960s. As one of their mid seventies adverts proclaimed, they haven't been hanging about for fifteen or twenty years. Mahogany was out - the earliest Ripper bodies were manufactured from maple, though in 1975 to 1976 alder was used before going back to maple in 1977. It was designed by Bill Lawrence who was working for Gibson at the time.
Economic pressures in the 1970s meant the L-9S had to be affordable. A good quality bass, certainly, but no expensive inlays or finishes, plastic pickup covers, and controls and pickups mounted on the scratchplate (reducing production time and costs, compared to mounting in the wood).
It was still a big bass, compared to Gibson's previous models. Long scale (there was no short-scale equivalent), with a big rounded body. All-maple ones can be quite heavy. Hardware consisted of the then brand new Ripper humbucking pickups, Gibson 3-point bridge, with chrome cover; and usually Schaller BM machines.
But the controls were interesting. Bill Lawrence developed their 'Q-system' electronics, which had an impressive array of tones, if a little difficult to find them all again... So Gibson put out a fantastic vinyl record with a demonstration of the bass; including suggested Q-system settings, and some funky live performances by Richard Evans and Dartanyan Brown of Chase.
The Ripper was available as a standard fretted instrument (left) and from 1975 as a fretless, though only 898 fretless ripper were shipped between 1975 and 1979; around 10% of the total. Have a look and a listen to a fretless Ripper here
The exact Ripper specifications can be seen in the 1975 Gibson bass and 1978 Gibson catalogues.
The Gibson Ripper shipping figures are taken from Larry Meiners book Gibson Shipment Totals.
| | | | | | | | | |
| --- | --- | --- | --- | --- | --- | --- | --- | --- |
| | 1973 | 1974 | 1975 | 1976 | 1977 | 1978 | 1979 | total |
| Ripper Fretless L9-FS | | | | 95 | 107 | 76 | 74 | 352 |
| Ripper Fretless L9-FS Tobacco Sunburst | | | 108 | 255 | 57 | 79 | 47 | 546 |
| Ripper L9-S Ebony | 19 | 426 | 118 | 734 | 442 | 466 | 198 | 2403 |
| Ripper L9-S Natural Maple Gloss | 20 | 3075 | | | 715 | 351 | 187 | 4348 |
| Ripper L9-S Natural Satin | | | 1057 | 1185 | | | | |
| Ripper L9-S Tobacco Sunburst | | | 5 | 22 | 52 | 19 | 28 | 126 |
The specifications listed below are taken from the 1975 Gibson bass catalogue
1975 Ripper L9-S

BODY SPECIFICATION
Solid alder body with contored shape

(maple 1973-74, and 1977 onwards)


Double cutaway design contored shape
3-point adjustable Tune-o-matic bridge with handrest
Combination tailpiece (strings enter through body or connect at end of bridge)
Two Gibson "Super humbucking" pickups
Master volume, midrange and treble roll-off controls
4-position transfer switch for multiple tonal changes
Available in Natural or Ebony body finish Body size: Length 21 1/2", width 14 1/2", depth 1 1/4"

NECK SPECIFICATION
Laminated maple construction
Width at fingerboard nut 1 5/8"
Choice of Natural Maple or Ebony fingerboard with dot inlays
Chrome-plated individual machine heads
Gibson truss rod with moulded truss rod cover
20 frets 34 1/2" scale length

1975 Ripper Fretless

BODY SPECIFICATION

Solid alder body with contored shape

(maple 1973-74, and 1977 onwards)


Double cutaway design contored shape
3-point adjustable Tune-o-matic bridge with handrest
Combination tailpiece (strings enter through body or connect at end of bridge)
Two Gibson "Super humbucking" pickups
Master volume, midrange and treble roll-off controls
4-position transfer switch for multiple tonal changes
Available in Sunburst finish

(also ebony and natural by 1977)


Body size: Length 21 1/2", width 14 1/2, depth 1 1/4"

NECK SPECIFICATION
Laminated maple construction
Width at fingerboard nut 1 5/8"
Fretless Ebony fingerboard (also maple by 1978)
Chrome-plated individual machine heads
Gibson truss rod with moulded truss rod cover
34 1/2" scale length