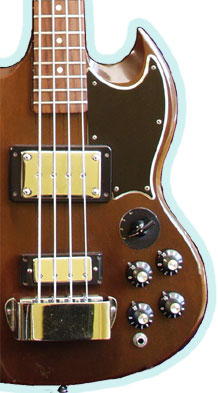 GIBSON EB3 BASS
The EB3 is a true design classic. Not many basses are as easily recognizeable, and as often copied as the Gibson EB3.
I was immediately at home with the EB3, one could get a wide variety of tones. I really felt one with that model. Was not happy to have it stolen!!! - Andy Fraser

For the music I was playing with Tull, the short scale Gibsons had a fullness of tone that was very suited to the sound of the band - Glenn Cornick

There's something about mahogany, there's a warm roundness,there's a character I get from my Thunderbird and EB-3s - Mike Watt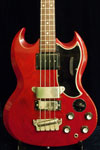 1961 Gibson EB3The EB3 came about as a companion bass model to the newly designed Les Paul (SG shape) guitars. It was launched in 1961, first being shown at the NAMM show in July of that year, for general release soon afterwards, with a launch price was $285. Almost 15000 basses were shipped before the model was discontinued in 1979, although sales figures for the years 1969-1973 far outstrip the years before or after. More about EB3 pricing and EB3 shipping figures
The EB0 and EB3 basses had a distinctive sound - in part due to their solid mahogany set-neck construction, and partially due to the pickups - particularly the large humbucker (lovingly dubbed mudbucker - see more about the Gibson EB3 pickup) in the neck position. The bass also came with a varitone switch for four distinct tones - including an incredibly bassy choked neck-pickup sound, often referred to as 'mud' by EB3 fans and detractors alike. Listen to EB3 soundclips
The evolution of the EB3 bass followed a very similar path to its sibling the EB0; changes in design happened at the same time, except that the EB3 never existed in the Les Paul Junior cutaway style of the 1960 EB0. The EB3 sported a solid mahogany body, 30 1/2 inch scale, mahogany 1961-71 one-piece neck with rosewood fingerboard, built in string mute, to give an upright bass sound. Details of EB3 variations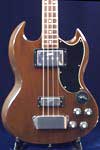 1971 Gibson EB3The beginning of the seventies saw the first major redesign of the bass; the shorter scale length had been seen as one of the EB3s weak points, so a long scale EB3L was produced along side regular shortscales. Interestingly the new long scale versions never exceeded the sales of short scale basses at any point, despite being the same price.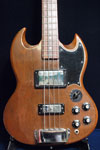 1972 Gibson EB3LBy late 1971/early 1972, the series was being redesigned again, but more drastically this time. Necks became maple, pickups were repositioned and circuits redesigned. Underbridge mutes were phased out entirely.
The 1960s EB3 was a small bass, as well as being only 30 1/2 scale, it weighed a mere 3.7 kg (compared to 4.6 kg of a 1970s EB3).
Some early seventies basses had a piece of foam rubber glued to the underside of the bridge cover, in order to act as a mute, but these again were usually removed.
The 1960s EB3 was very popular with the British bands of the late 1960s. People like Jack Bruce (Cream), Andy Fraser (Free), Bill Wyman (Rolling Stones), Trevor Bolder (David Bowie), Glenn Cornick (Jethro Tull), and Chris White (Zombies) all used the EB3 as well as a whole host more in the seventies. Today it still used by bassists such as Jared Followill (Kings of Leon), Mike Watt (Iggy and the Stooges)
It was available in cherry, walnut, ebony, natural and white. Colours other than cherry and walnut are uncommon and are highly sought after. Pelham blue models were available by custom order in the 1960s and white too.
The following pages summarise technical specifications, (parts lists, schematics) EB3 shipping figures, catalogue appearances and soundclips of the EB3 bass, as well as a closer look at instruments from different years.
similar models
1960s
EB0, EB0F, EB6, Melody Maker bass
1970s
EB4L, SB300, SB350, SB400, SB450
1990s
SG-Z
2000s
SG reissue bass, SG supreme