Long scale strings suitable for the EB3L bass

This very early split headstock model would have been one of the first shipped. This example has been refinnished, and has lost its serial number. You can read all about the restoration of this bass. Like all split-headstock EB basses it is fitted with Schaller M4 classic tuning keys. In addition to the extra pickup, the EB3 had a few high-end appointments over the EB0 - bound neck, and a three-ply (rather than one) pickguard. The long scale models had slightly longer necks, but they also had the bridge (in this case the two point bar bridge) situated a bit further back on the body of the bass. All EB3Ls came with a height adjustable EB humbucker with surround, EB mini humbucker and chrome bridge cover. Early models like the one shown above also came with a scripted truss rod cover, and some had pickup covers inscribed 'Gibson'.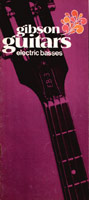 The EB3L was first announced in the 1970 Gibson bass catalogue, however shipping figures indicate none were availble until the following year. It was the same 34 1/2" scale of the Gibson Thunderbird, and Fender Precision and Jazz basses and was assumed to be in demand by the guitar-buying public. Sales figures never demonstrated this fact, with short-scale (30 1/2") instruments outselling the long scale in every year they were available.
This extra scale length is partially achieved with a longer neck, but also the bridge itself is shifted backwards beyond the controls. The bridge pickup is also moved by a similar amount.
For more information about EB3 basses in general, go back to the Gibson EB3 page.
Sound Clips
EB3L strung with D'addario ECB84 Chromes, recorded directly into a mobile-pre external sound card

Each clip is played fingerstyle, often changing playing position half way though - listen out for tonal differences

Position 1 - neck pickup with tone choke
typical EB humbucker muddiness. Great for dub and anything that needs a rumble rather than a bassline Position 2 - bridge pickup
the brightest setting
Position 3 - both pickups
a wide range of sounds can be dialed in in position 3. The second clip here is one of my favourite settings - clear and mellow in equal measure
Position 4 - neck pickup only
good basic sound