How NOT to package and ship a guitar
In 2004 I bought an EB3L bass on ebay. It arrived broken in two, due to very poor packaging. The purpose of this page is to demonstrate one way NOT to package a guitar - particularly something fragile like a thin-necked mahogany bass. Read the full story of the restoration, or look at the restored bass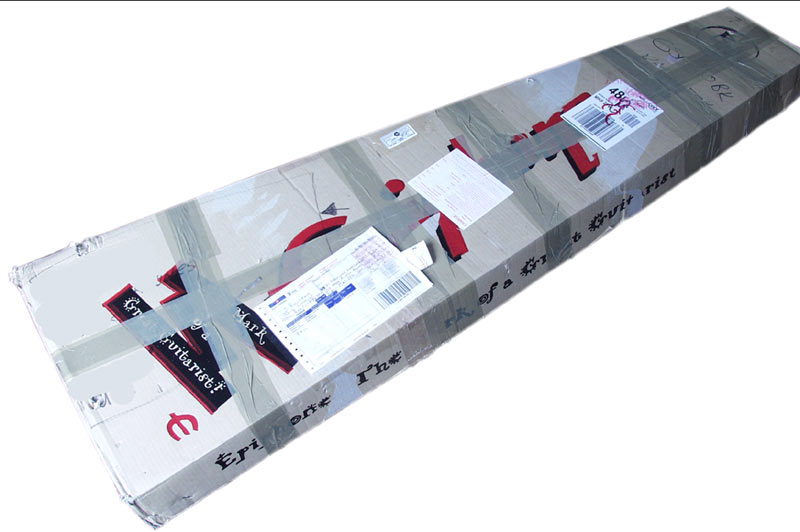 The first problem was the box itself, way too thin. Aswell as potentially splitting open, there is no protection from sharp jabs or crushing forces caused by being in a pile. This is one of those thin card boxes that a guitar without a hardcase will be sold in. It is in NO WAY suitable for shipping, unless inside another thicker carton.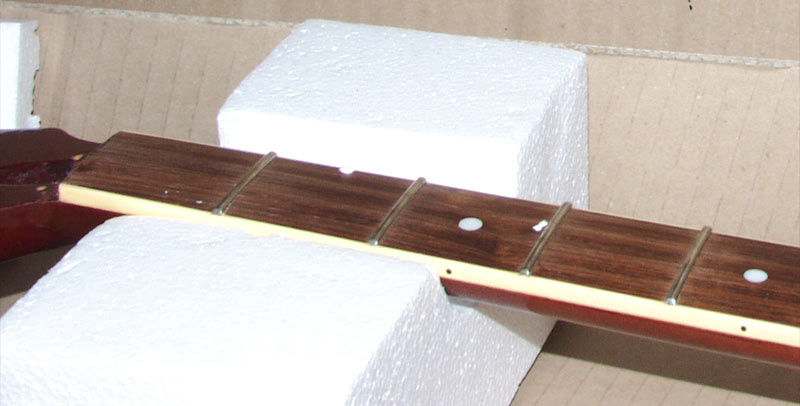 The general weakness of the box was compounded by it NOT being made for this bass. As can be seen, internal polystyrene neck supports, which may have protected some other instrument, actually lift this bass up a little. It is now unsupported, and simply having another (or a stack) of parcels piled or dropped on top can cause real damage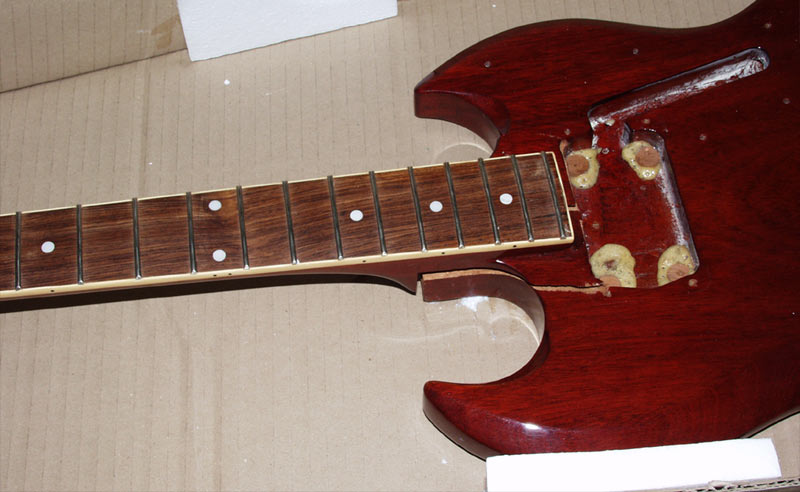 This is exactly what happened. As can be seen the bass snapped at the neck, caused by downward pressure on the body.
When packing a guitar, follow these rules
Pack the guitar first in its hard case/gig bag/good layer of bubble wrap. Slacken the strings slightly, and check that no parts of the instrument (such as tuners) are causing the bass to be incorrectly supported. Some early thunderbird cases have this problem, and can easily break headstocks. In this case the tuners should be removed before shipping
Use a thick cardboard outer carton, that has a few inches of packaging around the cased/wrapped instrument, including both ends, either packing polystyrene, more bubblewrap, or screwd up newspaper balls
Seal all edges well with tape
Mark the box in large letters on all faces FRAGILE, DO NOT DROP
Mark the box with 'this way up' with arrows signifying it should be kept on its end. This will prevent it from being put in a pile, and subjected to crushing